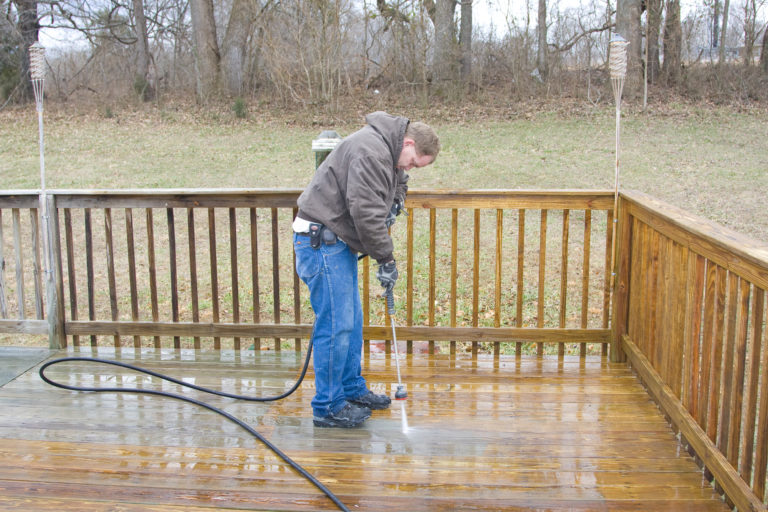 Power Washing in Vienna
Has the winter left your home's exterior in need of a good cleaning? Between the snow and ice of winter and the spring pollen, the outdoor areas of your home may need some extra attention. Pressure washing can be back-breaking work if you try tackling the job on your own. We have the equipment and the expertise to handle almost any job. We specialize in cleaning outdoor areas, such as, pool areas, patios, decks, retaining walls, fences, and even outdoor furniture. We also have experience in soft washing the siding on homes. Don't let anyone pressure wash your home who does not know to use the soft washing technique. Using too high of pressure could actually spray water up underneath the siding, causing water damage.
Are you trying to sell your home? Studies show that having a clean and tidy exterior can increase the selling value on your home.  You have the inside cleaned and staged before showing the home to potential buyers, so it makes sense to have the exterior looking it's best. If you are thinking about repainting the siding or fencing before selling, it is recommended to have those areas cleaned and pressure washed first.
Why Choose to Power Wash? Power washing your home is one of the best ways possible to get it back into pristine condition. The results are incredible. With a safe amount of pressure, we are able to remove mold, mildew and buildup of dirt. From the cement on the ground to the roof above your home- We will clean it all!  Power washing is safe and it is efficient. Hiring the professionals will save you from complete exhaustion and potential injuries. Our expert trained power washing employees are highly skilled and ready for any task. 
Power Washing Services in Vienna
Patios and Decks
Concrete and Asphalt
Pool Areas
Outdoor Furniture
Driveways and Walkways
Fencing
House Siding
Vienna
Vienna may appear to be a small town in the Metropolitan Area, but it is loaded with things to do. Be sure to check out Jammin' Java, a music club and cafe known for it's live performances. Meadowlark Botanical Gardens is nearly 100 acres with beautiful events all year around. Fairfax Square offers high-end shopping and dining. And Wolf Trap National Park for the Performing Arts has live events from pop or country to orchestra or opera - something for everyone. Click here to learn more about vienna. 
Our Guarantee
We are bonded and insured with over 20 years of experience in the Vienna area. While we pride ourselves on a job done right the first time, we guarantee all of our work. If you call within the first 72 hours of a cleaning with something we have missed, we will come back and correct it.